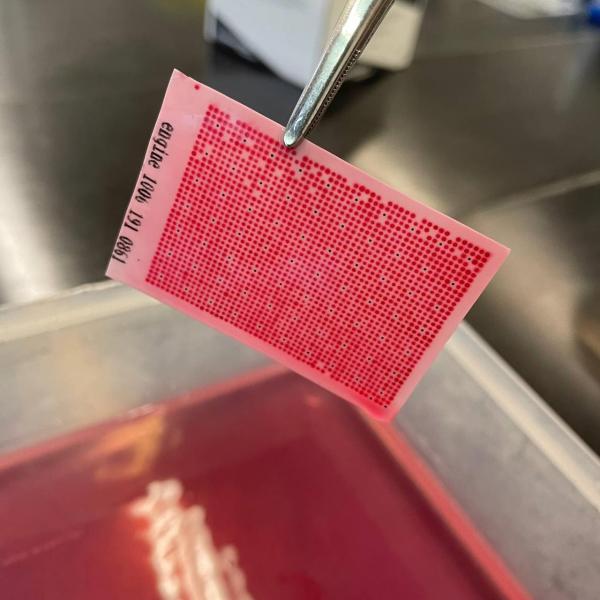 A human diagnostics internship you wish you have had!
Do you remember the internships you did when you were in school or university? For some of us, this was decisive for our later choice of career or specialization at university. These important events we would like to support. We have developed a kit especially for schoolchildren and students to easily identify biomarkers. Our kit can be used as an example for state-of-the-art humane diagnostics to teach modern methods of practical research. Berlin's Gläsernes Labor and the Beuth University of Applied Sciences Berlin are already on board!
We support the scientists of tomorrow – Why protein arrays for internships?
Researchers all over the world use our protein arrays for biomarker identification e.g., in autoimmunity and cancer. We would like to give young scientists the opportunity to use this method of biomarker research as well.
Typically, students learn the classic immunoassays such as ELISA and Western blot. But these can only be used, if you already know which antigen you want to examine. For biomarker research, ELISA is not enough. Researchers need to go new ways – as they are doing with our protein arrays.
Our protein arrays are based on E. coli clones, spotted onto PVDF membranes, which express more than 10,000 human proteins and peptides directly on the membrane. The process is very simple – just like a western blot: the arrays are incubated with your selected sample and the bound antibodies are detected.
Scientists and teachers face similar challenges.
Time pressure, the challenge to develop something new, being up-to-date, or being successful – whether you are a scientist or a teacher, you are facing almost the same problems in everyday working life. Our protein arrays provide a convenient and up-to-date method to discover new biomarker in an easy and reproducible way.
With our internship kit teachers have the perfect combination of practical research and modern methods. Our kits can be set up individually according to teaching contents or age groups.
Beuth University & Gläsernes Labor are now part of the protein array community
The Beuth University of Applied Sciences in Berlin and the "Gläsernes Labor" in Berlin use our protein arrays successfully.
The kits contain serum samples from autoimmunity patients and self-declared healthy persons as controls and have been adapted to their respective focus and age groups. The students at the University of Beuth learn to use our arrays in the proteomics internship combined with an introduction to mass spectrometry. The "Gläsernes Labor" utilizes our kit for the immunology internship for schoolchildren. We support the implementation with:
implementation protocol
videos of protein arrays production
individual discussions
reagents and composition
templates for visual analysis of positive spots
With our protein array internship-kits we bring schoolchildren and students closer to modern research approaches for the next revolution in diagnostics.
You like this idea?
Our protein arrays are an easy way to identify new biomarkers – in school or in research. If you know schools or universities that would also like to test our internship kit, forward the post or email us!